Terreco Environmental
Terreco is a dynamic company based in East London and established to service specific consultancy needs throughout the Eastern Cape and beyond. We offer comprehensive services including environmental impact assessment, environmental management, monitoring and auditing for a wide range of development projects. For an insight into our achievements to date browse What We Do.
AN INDUSTRY FIRST!
INTRODUCING OUR 
CONSTRUCTION SITE CHECKLIST APP
We have developed a new app for the civil engineering and construction industry. Our new app is designed to help engineers and contractors stay on top of their contractual environmental commitments and avoid pitfalls that may otherwise affect their contract performance, programme or budgets.
Download the application here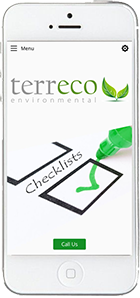 Our Valued Clients