Gather around nature lovers. 25 of the best photographs from the Wildlife Photographer of the Year 2015 Choice collection are available for viewing. This collection features photographs from all over the world. From a Giraffe peeking into a guesthouse to a Nile Crocodile, there is something for everyone.
You can vote for your favorite image here, be sure to submit your entry before the voting closing on 10 January 2017.
Have a look at some of the entries below, or view the full list on the BBC News site here.
Entries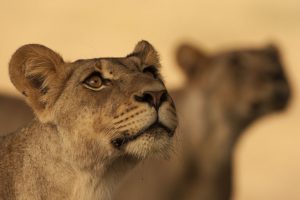 Bernd Wasiolka encountered a large lion pride at a waterhole in the Kgalagadi Transfrontier Park, South Africa. One of the two males spray-marked the branches of a nearby tree. Later two females sniffed the markings and for a brief moment both adopted the same posture.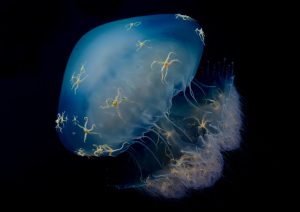 Andrea Marshall was snorkelling off the coast of Mozambique when she came across hundreds of large jelly-fish. Many were covered with brittle stars – opportunistic riders, taking advantage of this transport system to disperse along the coast. Delicate lighting makes the jelly glow, so the viewer can focus on the subtle colours and textures.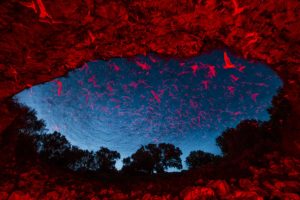 During the summer months, 20 million Mexican free-tailed bats arrive at Bracken Cave in San Antonio, Texas, US, to give birth and raise their young. Each evening at dusk, the hungry mothers emerge into the night in a vortex, circling out through the entrance and rising into the sky to feed on insects.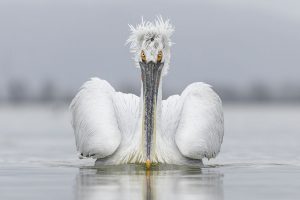 The Dalmatian pelican, seen here on Lake Kerkini, Greece, is the largest species of pelican in the world. It is native to eastern Europe, Russia and Asia. However, its population is currently threatened in some areas from hunting, water pollution and habitat loss, particularly a decline in wetlands.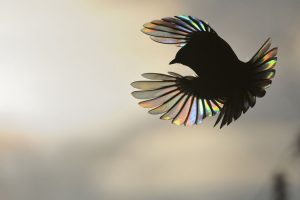 The bird's wing acts as a diffraction grating – a surface structure with a repeating pattern of ridges or slits. The structure causes the incoming light rays to spread out, bend and split into spectral colours, producing this shimmering rainbow effect.